Reminder! Our whole school (including all staff) will be at Camp Knickerbocker all day tomorrow, Thursday June 10th. There will be no one answering the phones at EES. If you need to communicate any changes to your plan please email Mrs. Cooper, or Mr. Michaud. We will be checking email throughout the day. Drop Off is "regular time" Between 7:30-8:00 Pick up is "early" 1:55-2:15 thank you, Mrs. Cooper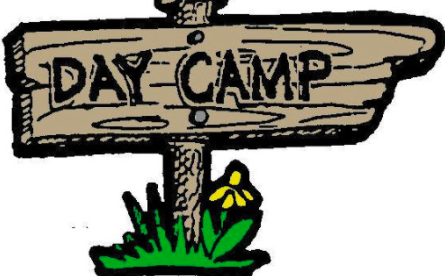 Congratulations to our Winners of Silent Virtual Art Auction !!! PK - Peg Averill K - Peg Averill 1st - Bill Joyce 2nd - Ellen Verge 3rd - Dawn Murray 4th - Dawn Murray 5th - Mike & Mindy Jones 5/6 - Heather Sinclair Moody Painting - Ira Michaud Please contact the school office to arrange for pickup of your artwork and THANK YOU MRS. MAC for creating these beautiful pieces with our students. Thank you to all who participated and supported this fundraiser!!!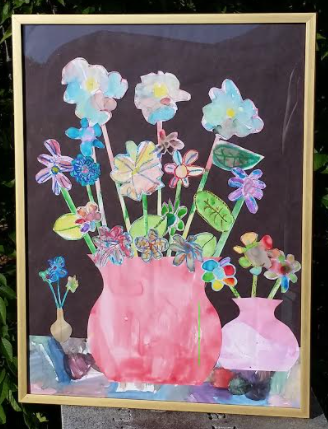 Spaghetti Supper and Silent Virtual Art Auction!!!We are pleased to present these items for silent virtual auction via facebook and this email. Thank you to our students and Mrs. MacCready for creating, framing and donating these beautiful student pieces. We are so impressed!!! Bidding instructions: Please post a comment on the facebook post of the artwork you are interested in bidding on. If you do not have facebook, you may email bids to
mcooper@aos98schools.org
There will be a live Zoom meeting at 6:00pm on Thursday June 3rd. Please join us from your home while you enjoy your own spaghetti supper. We will be finishing up last minute bidding during that time, and at 6:25 we will close the bidding, and announce the winners of all the artwork!!!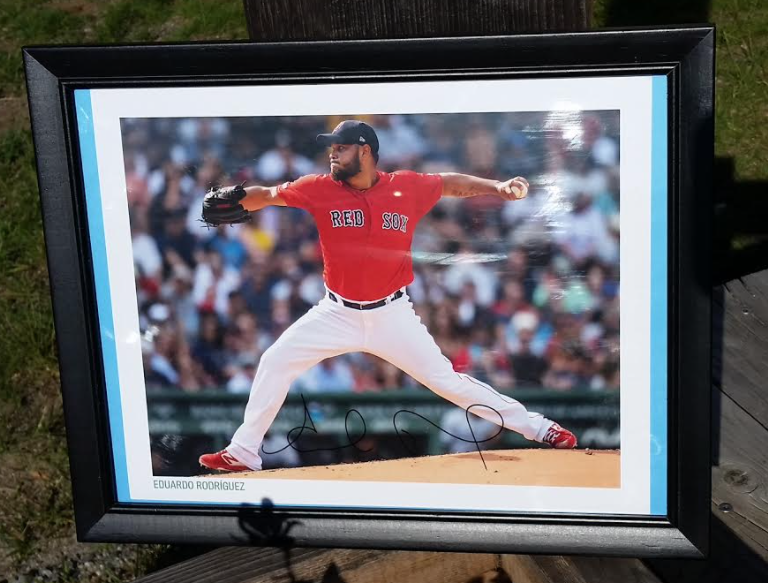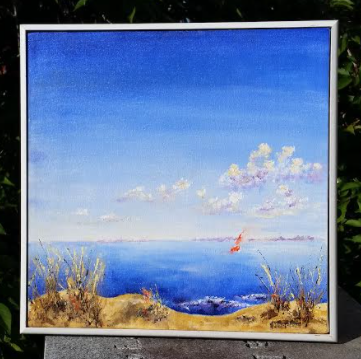 Reminder!!! PTC Meeting tonight via Zoom at 6:00pm: Agenda: End of the Year Planning 6th Grade Graduation Summer Project Planning See you there, check your email for zoom invite!
Bus 1 is back to "normal" pick up and drop off times as of Tuesday 6.1.21. Bus 2 Riders will also see a return to "normal" timing. Thank you.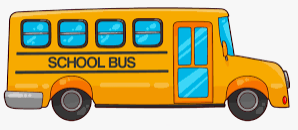 Good afternoon. We hope to see you all at our gathering this evening. Ms. McIvor, Mrs. Mac, the students, and the staff are excited about tonight's performance event. We'll also be holding our first drawing event with some amazing prizes - a free bounce house rental and a $25 gift certificate to Downeast Candies (two prizes that are especially of interest to our students). Here is your Zoom invitation for Thursday night's event. Make sure you share it with family you'd like to invite to the event. I can't wait to see you all there! Join Zoom Meeting
https://us04web.zoom.us/j/74619195430?pwd=VkdIa21BbWlUTzhBQ09TbjVEZFRBZz09
Meeting ID: 746 1919 5430 Passcode: xUV3Q6 If you are unable to attend, that's okay (although we'd prefer to have you with us for the kickoff). Here is a link you'll be able to access after tonight's gathering to watch the performance event at any time that's convenient for you.
https://drive.google.com/drive/folders/15O1yv5DmGr447zkxwje5t1OXM-f6CzOn?usp=sharing
- Ira Michaud -- Principal of Edgecomb Eddy
LAST CHANCE for Raffle Tickets!!! This is the last call to purchase raffle tickets for the fabulous prizes in our Virtual Spaghetti Supper Raffle! Tonight was ticket counting night, here pictured is our Wall-O-Tickets!!! Check out our digital form to enter the raffle here:
https://forms.gle/QWgYoffBByAGeduP7
Ticket $$$ must be received by 11am Tomorrow (Wednesday May 26th). Thank you for those who have already sent in tickets and $$$! We draw the first tickets at Spring Performance Zoom on Thursday 5/27. We will continue to draw a few raffle items each day until 6/3. You do not need to be present to win... we'll call you!!! Thank you again to our Community Sponsors!!!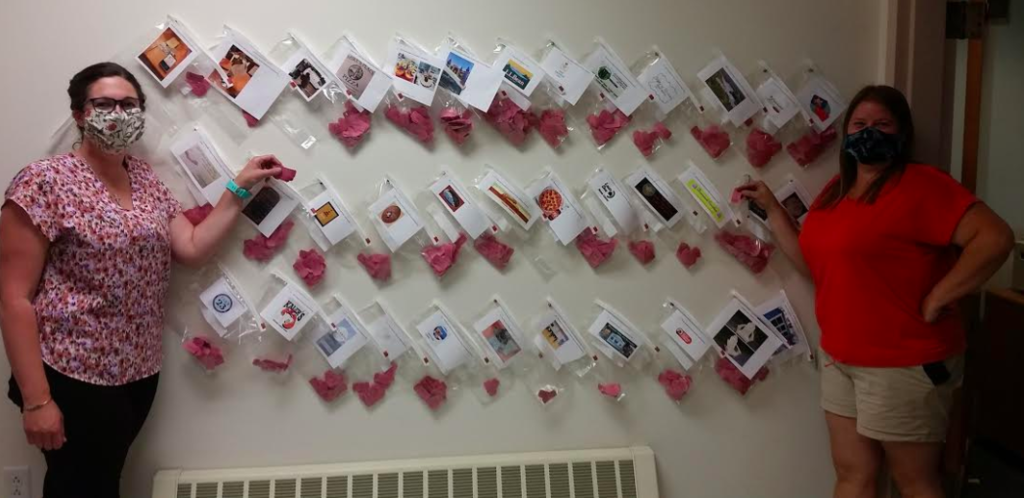 Have you checked out all the fabulous prizes in our "Raffle & Virtual Spaghetti Supper Fundraiser"?
https://forms.gle/FPSqj2MNne4w7gTR8
Shout out and THANK YOU to our Local Businesses who have donated prizes, gift cards and memberships: Ames Supply, Field of Dreams Salon, Hidden Valley Nature Center, Fuller's Gardening, Angelic Hands Massage, Que Rico, Best Thai, Damariscotta River Grill, King Eiders, Metcalf's, Wiscasset Quick Stop, Louis Doe, Pier 1 Pizza, Downeast Candies, Coastal Maine Botanical Gardens, Cakes by Ellen, Cakes by Julie, Farm 23, Kaler's, Oberuch Electric, Wiscasset Community Center, Harbor Nutrition, Bay Beauty, Atlantic Edge, Sea Glass Spa, Coastal Crave, Boothbay Railway Village, Laid Back Lumber, Mike's Place, Thistle Inn, Nervous Ticks, Weatherbird, McCormick's Electric, SeVende Imports, LLBean.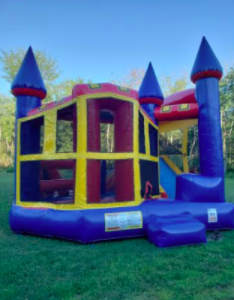 Come to the Boothbay Region Art Foundation Student Art Show! See flyer for details. Congratulations to our students!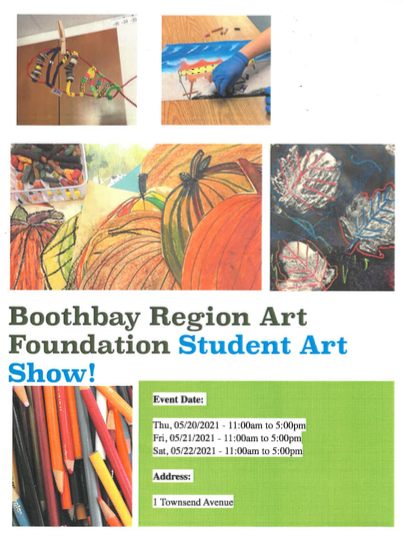 Edgecomb Eddy Community, please check your email for an important message from Mr. Michaud.
EES Friends and Families, please check your email for information about upcoming fundraisers. Here is a link to our digital format:
https://forms.gle/fvegrQNfjZsfJeYm7
Please share with your friends & family! Thank you to our very generous community sponsors!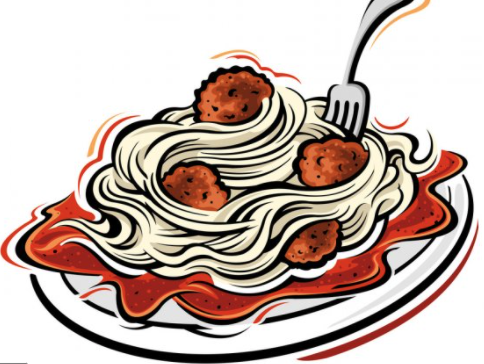 Greetings EES Community: Here are some important dates to remember! More details to come! Grade 3 MEA/NWEA Testing: May 10-13 Grade 4-6 MEA/NWEA Testing: May 11-14 Grade 5 Science MEA Testing: May 24-28 Thursday May 27th @ 5:45 - Spring Performance Event, Community Zoom May 27th-June 3rd - Spring Raffle Fundraiser Memorial Day, May 31st, No School Boston Trip for 6th graders - Friday June 4th (Depart EES before 7am, Return between 8-10pm) Whole school at Camp Knickerbocker Thursday June 10th, dismissal 2-2:15 parent pickup, busses depart @ 2:00 Friday June 11th, early release @ 11:15am Last day of School: Monday June 14th: 6th Grade Graduation & early release @ 11:15am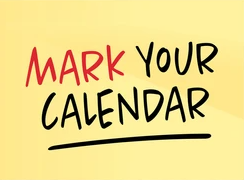 Teacher & Staff Appreciation Week here at EES was JAM PACKED with generous donations towards our lunch on Wednesday, individual gifts, handwritten notes, sweet treats, healthy snacks, refreshing drinks and much more! Thank you families and PTC for organizing this week. Students also recognized our favorite School Nurse! We all feel truly appreciated!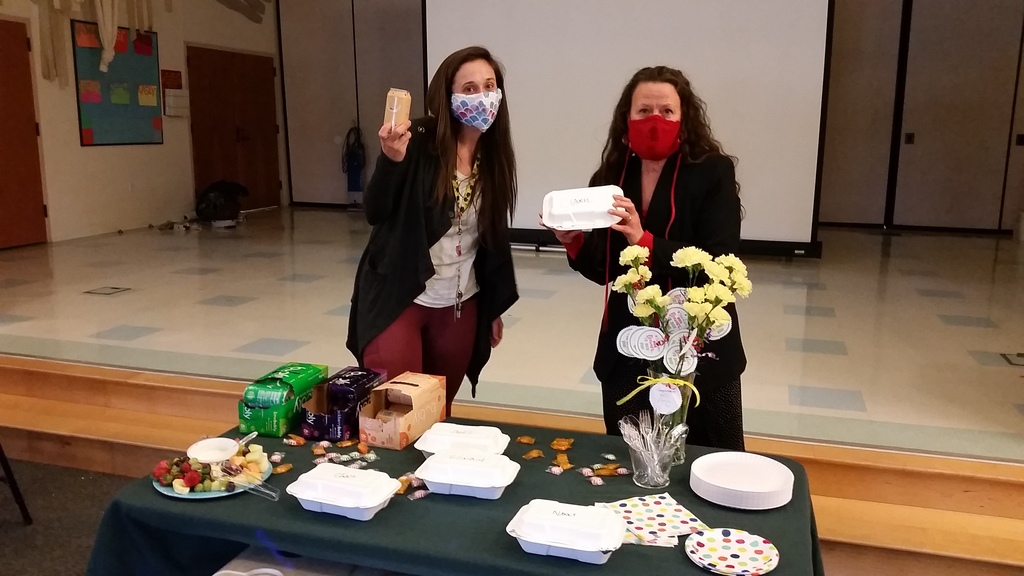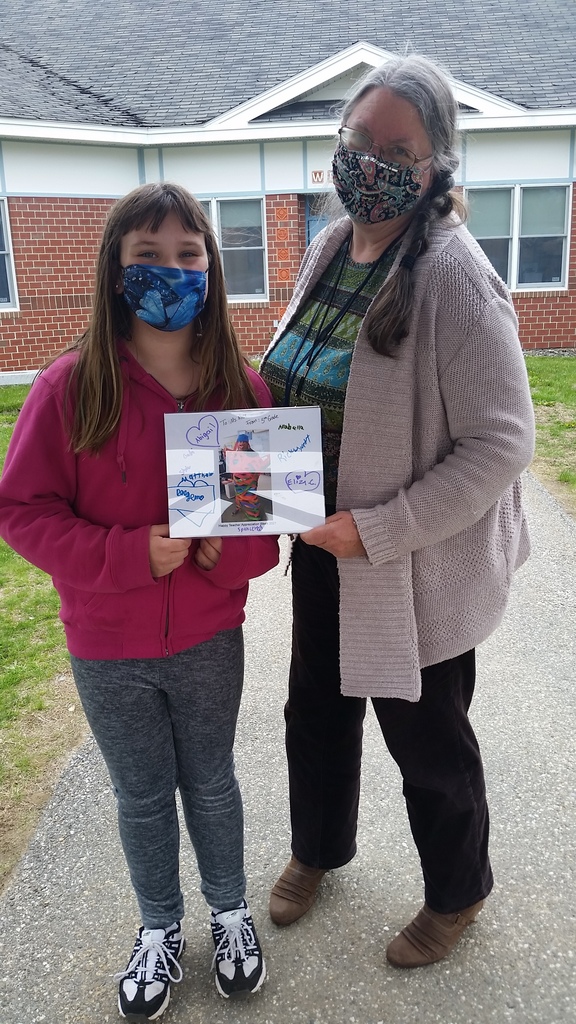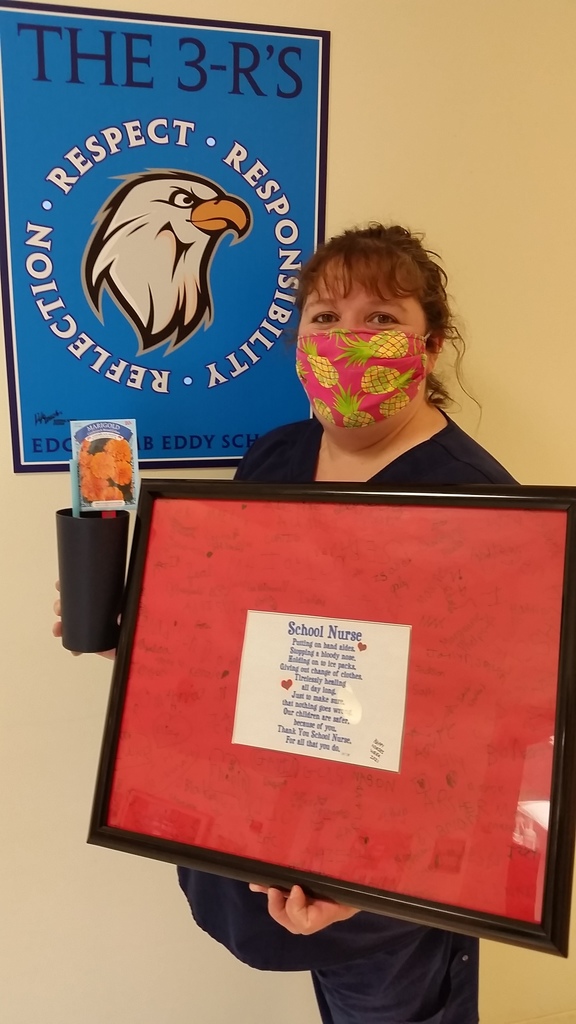 Here they are... pictures of the much anticipated grand prize of our PTC Read-A-Thon... Duct taping of Mrs. Currier to the wall!!! A special thank you to Mrs. Currier for being such a good sport and supporting her students. Also a special THANK YOU to Big Al for donating all the tape!!! Keep Reading EES!!!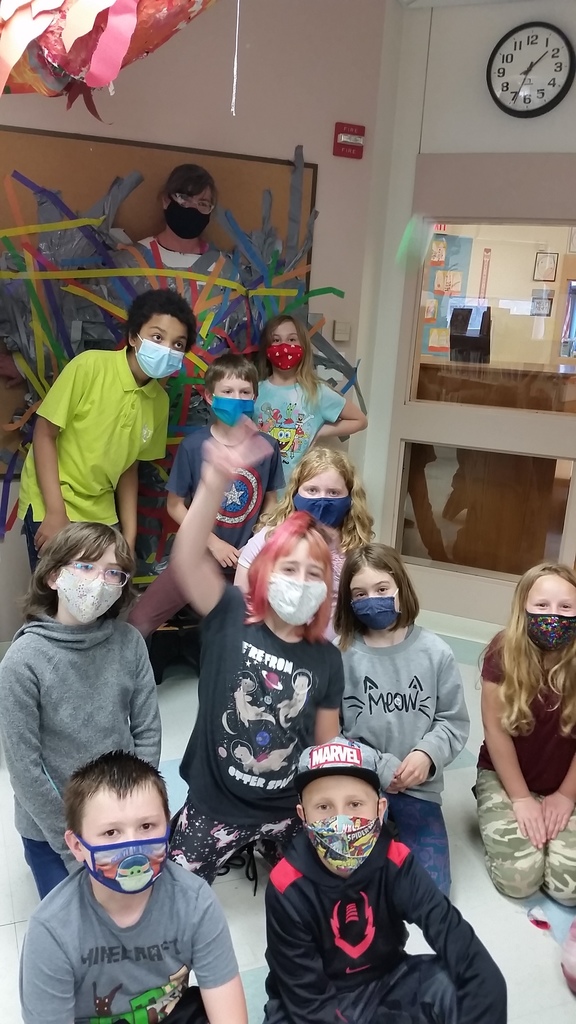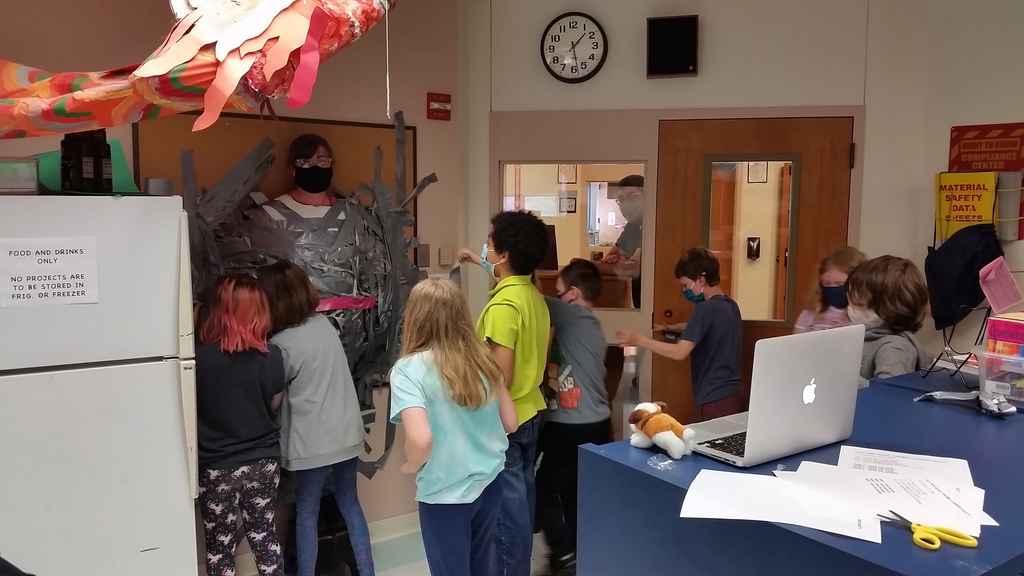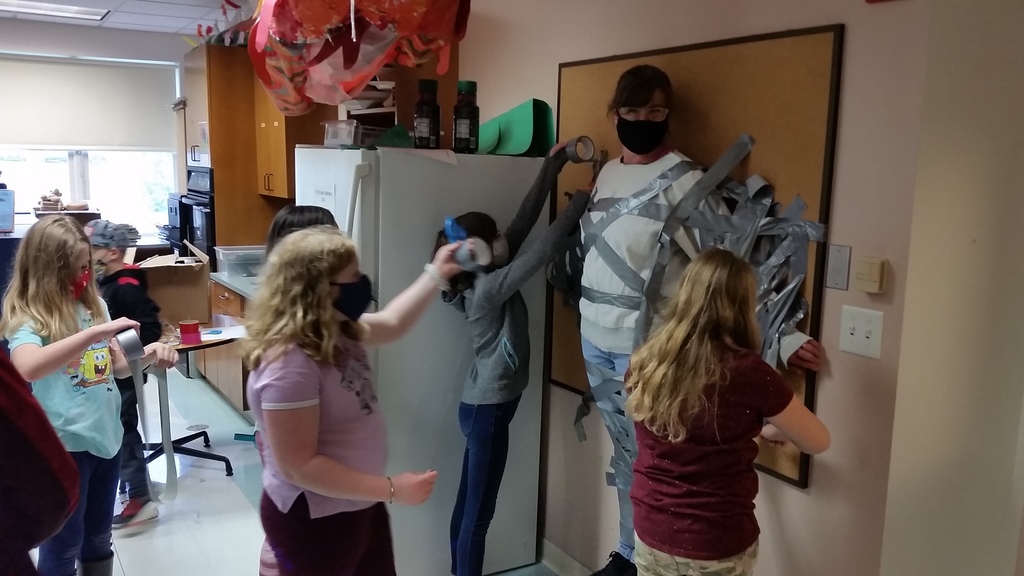 We are so proud of our whole school for all the reading these past 2 weeks. The school as a whole read: 37,826 minutes!!! Thats about 630 hours of reading time. Wow!!! Students enjoyed their Reading Bingo Popsicles today also. Here are our winners: 1st Place Classroom: Mrs. Currier's 4th Grade Runner Up Classroom: Mrs. Browne's 5/6 Homeroom 1st Place Student: Stella, 4th Grade Runner Up Student: John, 4th Grade Stay tuned for pictures of the taping and parties!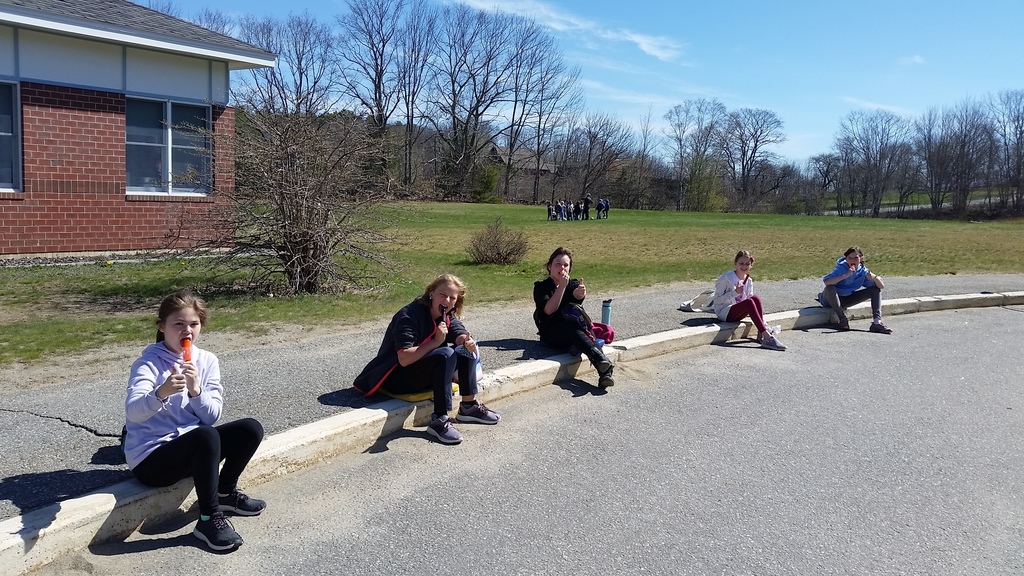 Last Chance!!! If you have not turned in your reading log or bingo card you can send them in tomorrow, Tuesday April 27th. Counts will be finished then and the winners will be announced at the end of the school day. Remember, the class with the most minutes logged gets to duct tape their teacher to the wall!!!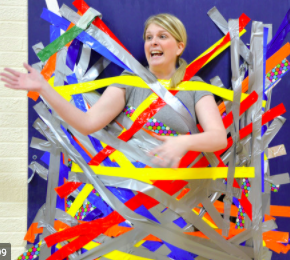 PTC Read-A-Thon... Day 9!!! There are only a few more days to log reading minutes! What are you doing to stay busy with reading? Did you go to the library this vacation? Are you reading while traveling? Are you reading at home or away? Are you reading outdoors, even today!!!??? Don't forget to turn in your bingo sheets and reading logs to school on Monday the 26th!!!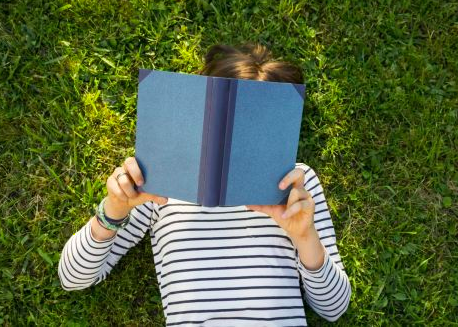 PTC Read-A-Thon Day 5! It's Flashlight Friday! Students were given flashlights to take home today to do fun "in the dark" reading over break. Keep logging your reading minutes and have a great week off!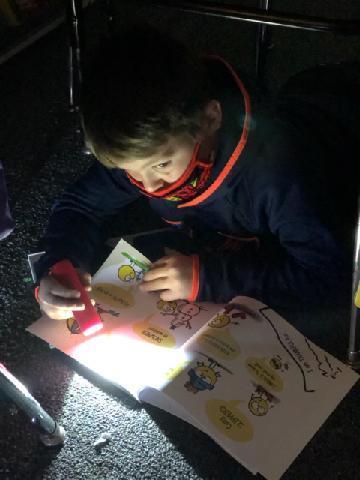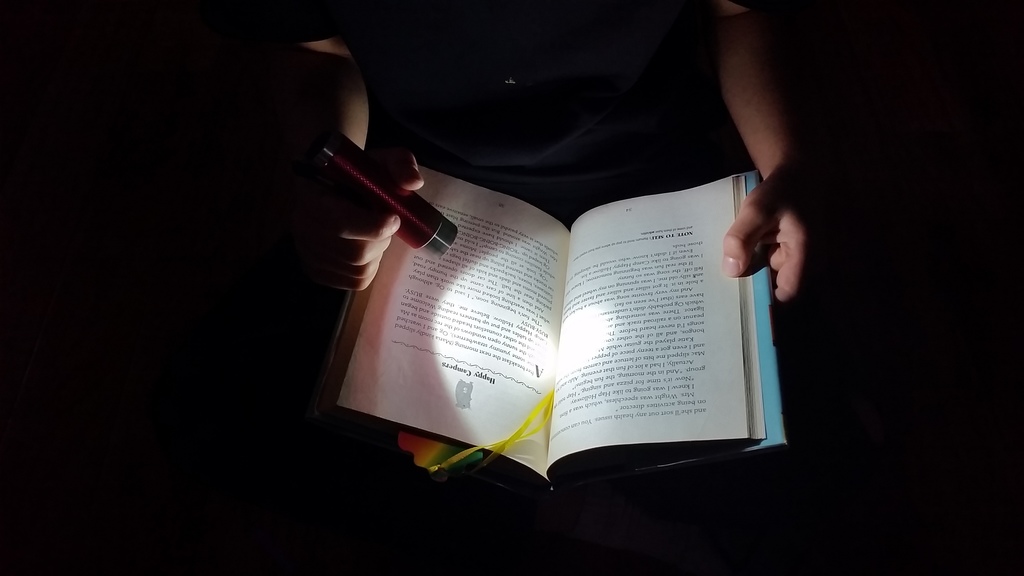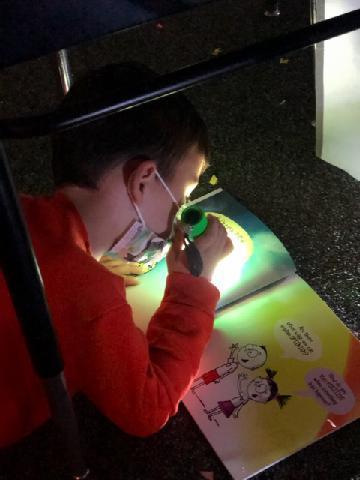 PTC Read-A-Thon Day 4!!! We hope everyone worked on their Remote Wednesday Bingo Cards yesterday, remember to turn in your completed bingo card after vacation for your popsicle prize! Today is "Reading makes me a Smartie" Day... Students will be given a treat to remind them to keep reading!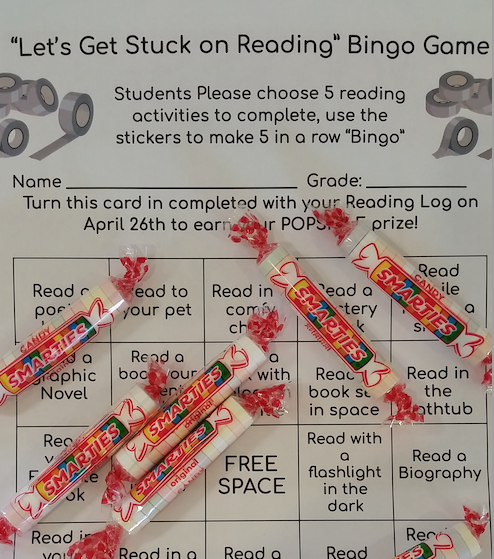 PTC Read-A-Thon Day 2! Today students enjoyed a "make your own bookmark" craft ! Keep reading everyone!